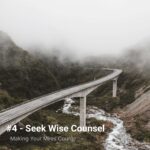 Is wisdom the key to financial wealth?
Why is it important to have counselors, advisors and leaders in your life?
Who makes a good counselor?
What are the red flags you should be looking out for when choosing a counselor or advisor?
In this episode, we will dive into the importance of surrounding yourself with people in your life that will help you succeed.
Thanks for stopping by, see you next week!
ABOUT US:
To date, Making Your Miles Count has saved Canadian Truck Drivers $67,000,000.00 in taxes.

Our services include;
-Full service accounting: (monthly GST, source deductions etc.)
-Truckers only income tax preparation: (personal T1 and corporate T2)
-Truckers comprehensive tax planning -Government communication and audit assistance
-Trucking company contract consulting and mediation
-Comprehensive administrative consulting to lease/owner operators
Follow the link to request more information about our services. https://mymc.app/register-public?referral=SocialMedia