#6 – Tech in the Trucking Industry: Accounting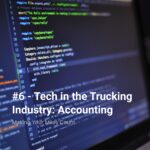 How will the advancement of technology make how you file your taxes more convenient and more affordable for the Independent Operator?

Find out how you can stop stockpiling paper, stop having to overthink accounting and start saving yourself time and money!


ABOUT US:
To date, Making Your Miles Count has saved Canadian Truck Drivers $67,000,000.00 in taxes.
Our services include;
-Full service accounting: (monthly GST, source deductions etc.)
-Truckers only income tax preparation: (personal T1 and corporate T2)
-Truckers comprehensive tax planning
-Government communication and audit assistance
-Trucking company contract consulting and mediation
-Comprehensive administrative consulting to lease/owner operators
Follow the link below to request more information about our services.