#1 – When is it a Good Time to Become an Independent Operator?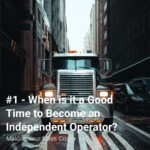 In this episode, your host Robert Scheper, alongside Dan Scheper and Peter Funk, discuss what it's like to be an Owner Operator vs. Lease Operator. Learn both the benefits and downsides of Owning and Leasing by hearing personal stories from their time in the industry.
When is the best time to become an Independent Operator?
Well, listen to find out!
ABOUT US:
To date, Making Your Miles Count has saved Canadian Truck Drivers $67,000,000.00 in taxes.

Our services include;
-Full service accounting: (monthly GST, source deductions etc.)
-Truckers only income tax preparation: (personal T1 and corporate T2)
-Truckers comprehensive tax planning
-Government communication and audit assistance
-Trucking company contract consulting and mediation
-Comprehensive administrative consulting to lease/owner operators
Contact us for more information!